1
When Baruch son of Neriah wrote on a scroll the words Jeremiah the prophet dictated in the fourth year of Jehoiakim son of Josiah king of Judah, Jeremiah said this to Baruch: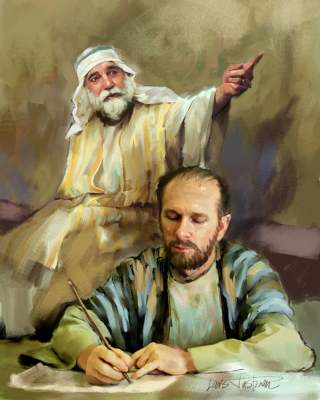 2
"This Is What The

LORD

, The GOD of Israel, Says to you, Baruch:
3
You said,
'Woe to me! The

LORD

Has Added sorrow to my pain; I am worn out with groaning and find no rest.'
4
But The

LORD

Has Told me to say to you,
'This Is What The

LORD

Says:
I Will Overthrow What I Have Built and Uproot What I Have Planted, throughout the earth.
5
Should you then seek great things for yourself? Do not seek them.
For I Will Bring disaster on all people,
Declares The

LORD

,
but wherever you go I Will Let you Escape with your life.' "
The long catalogue of calamities so consistently denounced by Jeremiah against his country
Jeremiah 45:1-5
, made a most painful impression upon Baruch's mind. He was of ambitious temperament
Jeremiah 45:5
, and being of noble birth as the grandson of Maaseiah, the governor of Jerusalem in Josiah's time
2 Chronicles 34:8
, and a scribe,
he appears to have looked forward either to high office in the state, or far more probably to being invested with prophetic powers.
This address tells Baruch to give up his ambitious hopes, and be content with escaping with life only. Like the prophecy of the 70 years of exile, it would become a prediction of good only after really troubles had been undergone and pride was quelled.