A psalm of David. When he fled from his son Absalom.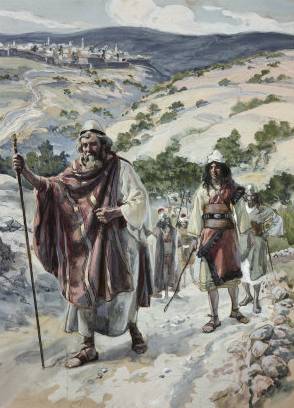 1
LORD
, how many are my foes!
How many rise up against me!
"GOD Will Not Deliver him."
b
3
But YOU,

LORD

, Are a Shield around me,
my glory, The ONE WHO Lifts my head high.
and HE Answers me from HIS Holy Mountain.
I wake again, Because The

LORD

Sustains me.
6
I will not fear though tens of thousands
assail me on every side.
Deliver me, my GOD!
Strike all my enemies on the jaw;
break the teeth of the wicked.
8
From The

LORD

Comes Deliverance.
May YOUR Blessing be on YOUR people.
As the foregoing Psalm 2, in the type of David in preferment, showed us the Royal Dignity of CHRIST, The REDEEMER, so this, by the example of David in distress, shows us the peace and holy security of the redeemed, how safe they really are, and think themselves to be, under the Divine Protection.



We have the story in 2 Samuel 15.
David, being now driven out from his palace, from the royal city, from the holy city, by his rebellious son Absalom,
I.
Complains To GOD of his enemies (v. 1, 2)
II.
Confides In GOD, and encourages himself in him as his GOD, notwithstanding (v. 3).
III.
Recollects the satisfaction he had in the gracious answers GOD Gave to his prayers, and his experience of His Goodness to him (v. 4, 5).
IV.
Triumphs over his fears (v. 6) and over his enemies, whom he prays against, (v. 7).
V.
Gives GOD the Glory and takes to himself the comfort of the Divine Blessing and Salvation which are sure to all the people of GOD (v. 8).
David here speaks of the Power and Goodness of GOD, and of the safety and peace of the godly.