A
maskil
of David. When he was in the cave. A prayer.
1
I cry aloud To The

LORD

;
I lift up my voice To The

LORD

for Mercy.
2
I pour out Before HIM my complaint;
Before HIM I tell my trouble.
3
When my spirit grows faint within me,
It Is YOU WHO Watch Over my way.
In the path where I walk
people have hidden a snare for me.
4
Look and see, there is no one at my right hand;
no one is concerned for me.
I have no refuge;
no one cares for my life.
I say, "YOU Are my Refuge,
my Portion in the land of the living."
for I am in desperate need;
Rescue me from those who pursue me,
for they are too strong for me.
7
Set me free from my prison,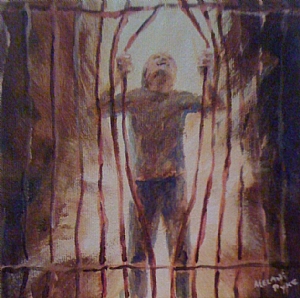 that I may praise YOUR Name.
Then the righteous will gather about me
because of YOUR Goodness to me.
This Psalm is a prayer, the substance of which David offered up to GOD when he was forced by Saul to take shelter in a cave, and which he afterwards penned in this form.
Whether it was in the cave of Adullam, or that of Engedi, that David prayed this prayer, is not material; it is plain that he was in distress. It was a great disgrace to so great a soldier, to be put to such shifts for his own safety, and a great terror to be so hotly pursued and every moment in expectation of death.